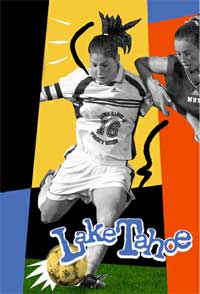 Fearless West Coast Soccer and our coaching staff are committed and excited to share our knowledge and passion of soccer to today's youth. Our formula for success is our unique ability to instruct Fearless Campers in all aspects of the game with enthusiasm and clarity. We are confident our campers will walk away empowered, fearless, and with a greater sense of the team concept.
Every camp features:
Fun and educational environment
Beginning to advanced fundamentals
Fearless Camp T-Shirt
Individual player evaluations
Daily competitions and prizes
Certificate of completion
REGISTER NOW & SAVE ON OUR FEARLESS SOCCER CAMPS 2010!
Join us for a full schedule of 2010 summer camps in Northern California & Nevada including Lake Tahoe
for kids of all ages and abilities .Click here for the 2010 ALL Camp Schedules
Fearless Mini's Camps for (ages 3.5 -5.4) DONT MISS OUT ON THE FEARLESS FUN!!!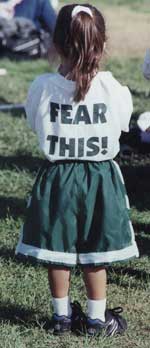 Meet The Staff
Get to know the Fearless coaching staff with our updated bios.
Check Out Our Gear!
You can buy the coolest Fearless Soccer gear on our new Gear Page. Check it out and order the hottest soccer stuff online!
Soccer Links
We've updated our links page. Surf the coolest soccer sites on the Web.
Are You a Fearless Leader?
Think you've got what it takes to be a Fearless Soccer Coach? See our online job posting.
Who Say's you have to be a kid to attend camp!!!
New! Fearless (Parents / Adult) Soccer & Fitness Camp Come play with us on July 13th,14th,15th 2010 / Time 8:45-10:15am Fee $ 89 If Register by April 15th $99 May 15th and $109 after May15th. All parent campers receive a fearless camp shirt and Profits Go toward youth camp scholarships.
This camp is great for all Fearless Parents who desire to learn more about the world's greatest game... and would like to have fun learning some soccer skills & tricks to dazzle their children . Sessions include a strength & conditioning boot camp lead by a nationally certified strength & conditioning specialist & our Fearless coaches will teach you proper soccer dribbling passing,shooting techniques .So come experience all the fun your children are having and learn some tricks that will allow you to have fun on the soccer field with your children. Have no Fear if you have not played soccer before! Be prepared for a great work out and tons of fun !! Register here for Fearless parent camps.